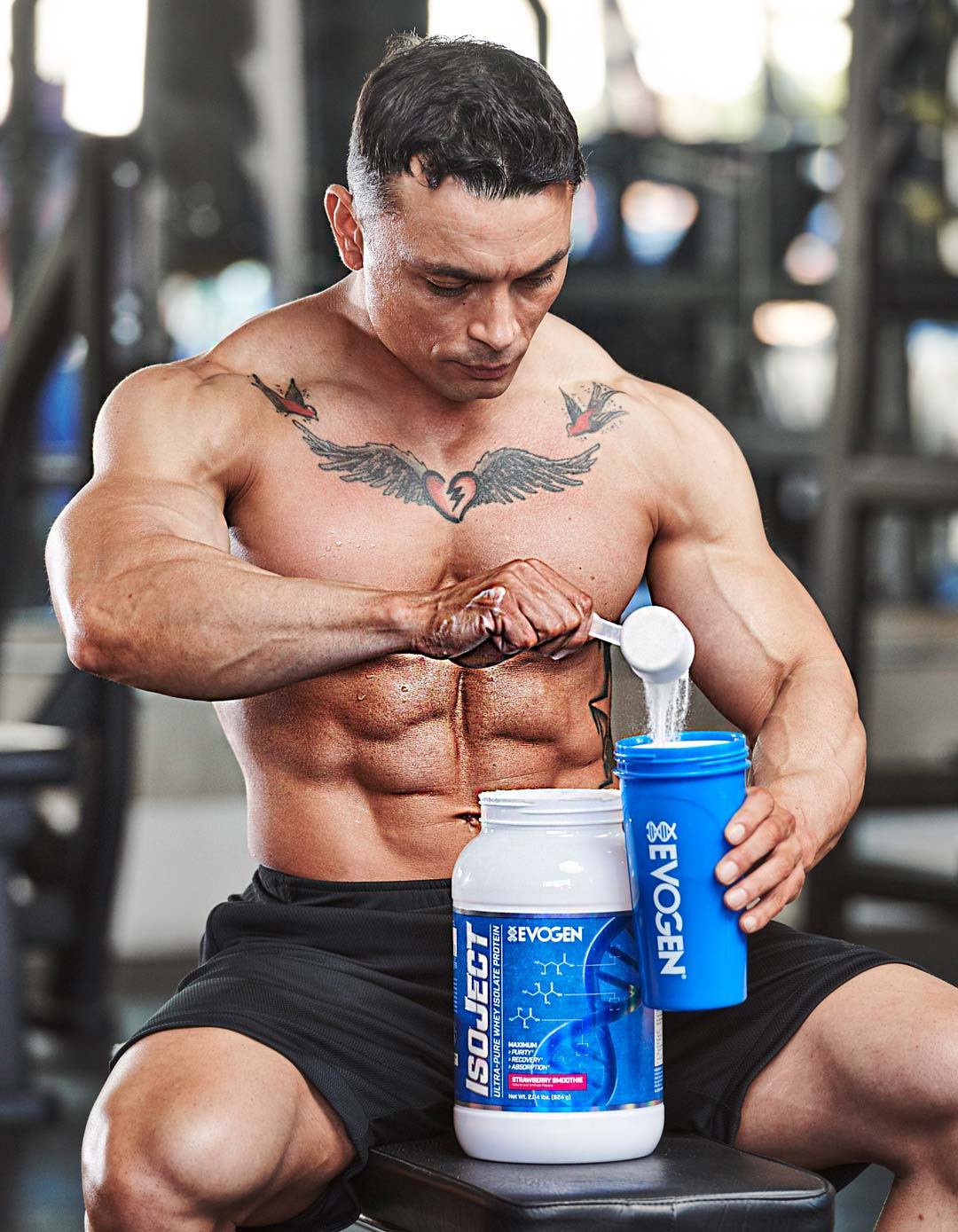 When going to every extreme to try to create the most effective whey isolate in existence, you have to go to equal extremes when developing the flavor. Evogen Nutrition has done just that. However, 100% pure proteins that also taste great and utilize the latest technology didn't exist until now. This is why IsoJect is setting the standard for great tasting 100% whey isolate with only 110-120 calories per serving.
It utilizes cutting-edge triple cold-filtered whey isolate which undergoes sensitive nano-filtration to preserve the quality of its ultra-pure whey isolate. This innovative processing allows for a higher glycomacropeptide content than ion exchange processing. This peptide is high in branched chain amino acids and has many benefits toward your desired body composition goals.
Evogen CEO, Hany "The Pro Creator" Rambod waited years to release this precision formulation because quite honestly he couldn't compete in the protein market with all the impure products. This was because many companies were not actually using protein in their protein powders. They were relying on low-grade amino acids and creatine fillers that cost much less than protein. High quality whey protein isolate became a thing of the past.
Even worse, as time progressed Hany was having a lot of trouble recommending reputable brands for his clients. However, enough was enough, and despite the growing trend of releasing impure proteins, Hany made the ultimate decision in releasing IsoJect for his world-class athletes and customers around the world. As you've come to expect of all Evogen products only the highest quality whey protein isolate was used in IsoJect.
THE ISOJECT™ DIFFERENCE – IGNITOR™ ENZYME TECHNOLOGY
IsoJect uses "new to the public" proteolytic enzyme technology to maximize protein utilization for critical growth and repair amino acids. These specifically target leucine, valine, isoleucine, and glutamine. This precision enzyme technology ensures maximum release and absorption of these key amino acids for rapid effects.
One of the major issues with athletes, is the requirement for higher protein diets to assist in their growing recovery needs. Often their protein needs can exceed the amount of the enzymes their own body creates. The result is that while their protein intake is increasing, proportionately more amino acids from their intake of protein supplements may not be getting fully absorbed leading to gas, bloating, etc. This is where IGNITOR™ Enzyme Technology can greatly increase your protein powder's effectiveness.
IGNITOR contains a scientifically crafted combination of endopeptidases and exopeptidases which belong to a class of enzymes called aminopeptidases. Endopeptidases hydrolyze protein molecules at the interior peptide bonds, liberating smaller peptides, while exopeptidases hydrolyze the protein molecule at the terminus of the peptide chain, releasing individual amino acids.
The difference between these aminopeptidases than what is produced in your small intestines is that they are specifically designed to act on the bonds associated with branch chain amino acids and glutamine. They focus on those specific amino acids' release into the bloodstream and then on to your recovering muscles. So while these added enzymes focus on critical recovery amino acids in IsoJect, your own body's enzymes can work more efficiently liberating other amino acids in tandem.
This breakthrough IGNITOR™ Enzyme Technology is being brought first to market by Evogen Nutrition. It's enzyme system maximizes your body's ability to rapidly digest protein, facilitate repair and recovery with little to no stomach discomfort. All in all, Evogen Nutrition is redefining the standards when it comes to an incredible tasting ultra-pure whey protein isolate. Try IsoJect, you'll see and taste the difference!
* These statements have not been evaluated by the Food and Drug Administration. This product is not intended to diagnose, treat, cure, or prevent any disease.
† When combined with a proper exercise and nutrition program. Please consult with your physician before using this or any other dietary supplement product.
EVOGEN AMINOJECT 
AMINOJECT™- PREMIUM AMINO ACID ACCELERATOR
THE ULTIMATE CLEAN BCAA RECOVERY CATALYST FEATURING BIOFERM-QA™ AMINO ACIDS
When it comes to quality amino acids, Evogen Nutrition has always set the standard when it comes to ultra-clean and pure fermented sources. We first introduced our fermented branch chain amino acids into the market place with our stimulant free pre-workout powerhouse EVP. Seven years later, we've maintained this quality standard with all of our products, including our newest introduction, AminoJect. This amazing tasting formula is packed with not only BCAA's, but also glutamine and betaine to accelerate recovery with unheard of speed. Would you expect anything less from The Pro Creator® Hany Rambod? Evogen has created a whole new ultra-premium BCAA category with the introduction of AminoJect. Feel and taste the AminoJect difference.
MAXIMUM > REPAIR | ENDURANCE | RECOVERY†*
6 Grams
Fermented L-Leucine, L-Isoleucine and L-Valine – BCAA's have become a "must have" for any serious lifter for one reason, and one reason only: they work. However, in order to have a noticeable effect in reducing muscle soreness and accelerating recovery you must have an adequate amount. This is why AminoJect uses a huge dose of 6 grams to ensure proper stimulation of protein synthesis and to shut down catabolic processes in your body with every serving. You work hard for your gains which is why AminoJect should be a staple in your intra-workout training arsenal when trying to maximize lean gains and fighting off potential muscle loss while cutting..
5 Grams
Fermented L-Glutamine – While most intra-workout amino acid products only have 1-2 grams, AminoJect uses a full 5 gram total. Evogen has always used this pure form of l-glutamine as a commitment to quality.
1 Gram
Betaine Anhydrous – This naturally sourced sugar beet derivative, has strong clinical backing in athletes when it comes to increasing power output. It does so by supporting your body's own creatine production which has a direct effect on increasing performance such as reps to failure, total work performed, etc. Betaine Anhydrous is essential to AminoJect for various reasons including to help optimize water balance in working muscles in conjunction with the powerful electrolyte blend included in the formulation.
1 Gram
Citrulline Malate – This powerful performance enhancer is a "must have" in any intra-workout formulation. The reason being, it can help augment ammonia waste products produced by the breakdown of BCAA's in working muscles. It also assists in providing ATP to working muscles via the Kreb's cycle to provide an extra "boost" to your training sessions.
AminoJect Electrolyte Complex – Rounding out this highly effective formula is a revolutionary electrolyte blend. This full spectrum blend was designed specifically for hardworking physique enthusiasts to optimize performance and muscle fullness. Electrolytes serve a crucial role in maintaining water balance throughout the body and facilitating motor neuron function. Without this addition to the AminoJect formulation, there's a chance performance could be compromised as you increase your training volume.
THE BIOFERM QA™ DIFFERENCE IS THE EVOGEN DIFFERENCE
When it comes to branch chain amino acids, there are essentially two different manufacturing processes. The first is called enzymatic fermentation, and the second is called chemical extraction. Enzymatic fermentation typically uses vegetable sources such as corn, and through multiple steps using enzymes, various free form amino acids are the result. This process originated in Japan to support the growing need for pharmaceutical grade amino acids for multiple medical infusion therapies.
The second process is known as chemical extraction. The starting material for this process begins with animal by-products such as hair, feathers, nails, claws, etc. that have high keratin content. Keratins are rich in amino acids and protein. Through various chemical breakdown and extraction processes, an assortment amino acids can be pulled from keratins to create raw materials. Essentially, many animals that end up in meat processing plants are donating their fur, feathers, etc. to support amino acid raw material products.
Just like the recent trend of amino acid spiking, the choice to use plant based vs. animal waste product based amino acids comes down to company ethics and standards. Many consumers were willing to pay cheap prices for amino spiked proteins that had a high nitrogen content, which was equated to real protein content. Evogen Nutrition never participated in this deceitful practice, and we released IsoJect™ ultra-premium pure whey isolate as a testament to our quality commitment.
The same goes for making the conscious choice to not utilize cheap BCAA's derived from animal meat processing waste products and choosing to use more expensive vegetable derived amino acids. Now with the introduction of AminoJect Naturals, we are using the same purely refined fermented amino acids that have been used in EVP, EVP Plus, and Cell K.E.M. since their inception. Some companies set their quality standards very high, and some avoid them out of greed. Evogen Nutrition, and now Evogen Naturals, has clearly has chosen the higher path, and consumers have learned time and time again that with our products, you get what you pay for.
* These statements have not been evaluated by the Food and Drug Administration. This product is not intended to diagnose, treat, cure, or prevent any disease.
† When combined with a proper exercise and nutrition program. Please consult with your physician before using this or any other dietary supplement product.